All is calm

It seems appropriate that I should already be out of funds. It being Christmas, of course, this is almost certainly the most useful thing that could possibly happen (sarcasm gland goes into overdrive). It's not as if I have to purchase presents for people is it? Or indulge in a little booze-driven merriment. Sometimes I get the feeling that 'Im Upstairs has it in for me. At least British Gas got a nice big Christmas gift from yours truly. I'm so generous.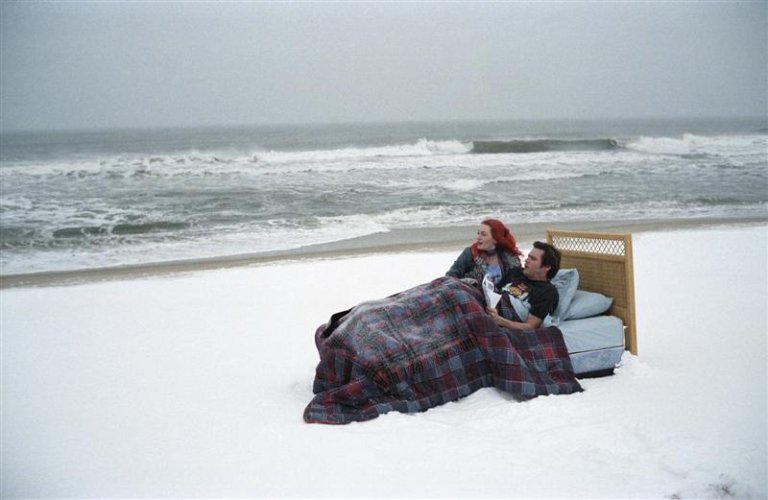 Suffice to say, we did not manage to trip the light fandango and head out on our planned band-fest last night. F**king thing was sold out wasn't it? Not happy was I, but the wounds were healed with the age old and time-tested recovery method of applying a bloody good film, sans damp towelette, to the forehead. And then watching it.
Michel Gondry
is a genius. Why does he not have a webpage??? If you haven't seen
Eternal Sunshine of the Spotless Mind
I would seriously advise you to do so. Utterly spellbound were we. I've not seen a film quite as original in quite some time. Or ever. To be honest I'm having a really hard time thinking of another one that pushes the boundaries of storytelling quite as much, and at present I am failing in this task. American people like it too. Along with
Shrek 2
,
Spiderman 2
,
The Incredibles
and
Fahrenheit 911
,
Eternal Sunshine...
is up for the
American People's Choice Film of the Year award
. This is apparently, as the name suggests, voted for by the public. Looks to me like the public has already done a pretty good job by getting those five films nominated, so lets hope either
ESOTSM
or
Fahrenheit 911
walk away with it. Both these films have made me cry through happiness and sadness - yes, I am a certified emotional wreck - and in my books that is grounds alone for being a winner. I'm also quite impressed that I had the foresight to put this film on my Amazon wishlist two months prior to seeing it. It's like I knew it was going to be great. Does this mean I am psychic? Have I discovered a power I never knew I had? Am I... a superhero? This would seem to me to be a bit of a longshot, but if you think that I am please drop me a line and suggest a name (Bubs, the floor is yours).
How the mind wanders when it has nothing to do. In a very unfortunate turn of events, the colleague with the gamecube (with Tiger Woods golf) has been sick for the last two days, meaning that our primary time-passing activity has been removed. Disaster! I am having to make-do with online
Table Football
, although this is hardly a worthwhile exercise. The computers at work being as old as they are (Pentium -6 I think), the game closely resembles a Chelsea Pensioners IX vs. St. Margarets Nursing Home IX. I'm not exactly on the edge of my seat, and as such, any excitement or interest which this game might have held for me, is well and truly lost. I could always read a book of course. But I fear I may fall asleep, and then if a call came through to me (slim odds, but it could happen) what would I do? The customer would hear me snoring and dribbling into my microphone, dead to the world, and not in the slightest bit concerned about whether some plebian technician hadn't installed their telly properly. On second thoughts, this is a wonderful idea. I am open to suggestions though, so if anyone can think of another, slightly more constructive way for me to wile away the hours, then please let me know. I'm dying here.
I have thought of a competition for my readers. It's good, believe me, and the prize? Well! You are a lucky bunch, you really are. I shall do this tomorrow as I can not do it today (I don't have the necessary tools) so be sure to tune in. You'd be mad not to.
Ps. I have already heard Keane twice today. I just thought you ought to know.