The Great REM Album Review: Part II
Evening all.
Here we are again, lovely show wasn't it? Hmm? Oh yes, and you look divine dear. Just divine. It's all going rather swimmingly. Swimmingly, yes. Lovely meal too. Beautiful weather for this time of year. Don't see many squirrels these days do you?
Quite. That's enough small talk for me. On with the show! This is going to be Part 1 of Part II, if you get my drift. First up it's album review. After that it's all the Track 1's. Got it? It's not exactly brain surgery is it? Now sit in your chair and be quiet. I said be quiet! Bloody kids (mumble mumble)...
Reckoning (1984)
1. Harbor Coat
Mmm. This is very good. I luuuurrve the guitar bits. All twangy and spangly like. This is blatantly better than nearly all of the first album. They've obviously spent the time between records learning how to write songs, or at least learnt the value of a bit of quality control. Oh, there's a weird middle bit with harmonicas and things. Eww. Bit pointless. But I forgive them. I'll be pretending I know the words to this for the next week, when I haven't a clue what they really are.

(8/10)
2. 7 Chinese Brothers
Oh bugger me, this is good too. There's a good alternate version of this of Dead Letter Office (which I'm not reviewing as it's not really an original album - I'll explain later) and this is the original and not quite as strange version. I think I like the strange one an incey wincey willis bit more. Different to anything before, quite countryish, but generally quite hard to describe. Bonzer generally sums it up though. Oh it's finished. I am sad.

(8/10)
3. So Central Rain
Okay, it's abundantly apparent that this album is VERY GOOD. This is different again, and bloody ace again. Michael's singing very well and I'm impressed. Makes me feel like a sad cowboy.

(7.8/10)
4. Pretty Persuasion
You'd think it would all be downhill from here wouldn't you? Luckily for me you're completely wrong. THIS IS GOOD TOO! What the fuck's going on? Second album and they're acting all professional like. Great chorus. Great tune. This is a good old rocky bastard of a song. Great guitar bit again. Now would be a good time to die.

(8/10)
5. Time After Time (Annelise)
Bit slower this one. That's not particularly a bad thing, but this does seem to be the first dip in the road, as it were. Still, it's a nice enough piece of thing. It just seems to be looking for something and never quite finding it. The bit in the middle, where you think "ah, here's where we get busy with the fizzy" just kind of trundles off boringly. I am sad.

(5/1
0)
6. Second Guessing
Okayish. Quite upbeat and what have you. The lyrics are boring. There's been a bit of a downturn hasn't there? Still better than anything Skunk Anansie have ever dreamt of doing. Next.

(5.5/10)
7. Letter Never Sent
I'm beginning to think they used up all the good songs at the beginning just to get you interested. If they did then that's awfully cynical marketing and I'm not impressed. In the slightest. Once more, it's better than Kula Shaker, but what kind of a recommendation is that? The chorus is actually quite annoying, which makes me not very happy. Stop please.
It's still going.
Oh good, it's stopped.

(4/10)
8. Camera
This is them trying to be a bit overblown and self-important. It's better than the last lot, but seeing as it's the longest song on the record, it's erring just too far on the side of boring. He wants to "be a camera" apparently. That's never going to happen is it? I do like all the bonging noises in the background. A bit like a very quiet accident in a wind chime factory. Oh but it drags on and on! Stop dammit!

(6/10)
9. (Don't Go Back To) Rockville
Good spazzy bit at the beginning. Someone's been taking their funny pills again. This is more like it. Another good song, at last. This is one of those sing-along type numbers, it's catchy and easy on the ear. Like Johnny Cash on helium and at 45rpm rather than 33. Which sounds like an awful concept but is actually very pleasant.

(7/10)
10. Little America
End on a fast number. Good idea. This is alright.
That's all I have to say.

(6.3/10)
It's calculator time again. Grand total of 65.6/100. That's, er duh, 65%. Or alternatively 6.5 for each track. The last album got 58.6%. That's slightly more than a 6% improvement. Still not great, but they are gradually getting there. Amateurs.
It's time for the interval, then it's

The Great Track 1 Review Event

!!!
Right, I'm back. I'm not going to fanny about here, so off we go.
1. Murmur - Radio Free Europe
Bloody good. I'm sticking with my original assessment. Great way to start a career.


2. Reckoning - Harbor Coat

Just f***in' great. I could listen to this all day and not get bored. If I could write songs (maybe I should try one day) then I would want to write something like this. Sounds quite dated, but that is NOT A BAD THING. Officially.
3. Fables Of The Reconstruction - Feeling Gravitys Pull
Weird maaaaan. This is some funky shit. Somebody's been smoking something funny. This is Twilight-Zone-esque and therefore very appealing. There's a cello in there somewhere (I used to play the cello don't you know? I'm cultured me.) which adds a distinctly moody tone to proceedings. Good stuff lads.
4. Lifes Rich Pageant - Begin The Begin
METAL!!! Not really. I absolutely love this album, so maybe I'm biased, but this is the dog's bollocks. The whole sound of the band is more, how can I put it, bandy. They just sound like they are really starting to know what they're doing. And Stipe is starting to get well in to it. More adventurous and more confident and more good.
5. Document - Finest Worksong
This one sounds like money. You know, like somebody gave them lots of money and a nice big studio, lots of beer, lots of girls, and said make a record that'll sell loads. It bloody worked too. This is a lot like the last one, except slicker. I don't know about better. It's a close run thing. There's honestly nothing wrong with this one, apart from the over-produced thing, and the drums are a bit echoey. But I'm just being pedantic.
6. Green - Pop Song 89
This is really good too, but from a personal point of view, Green is possibly my least favourite (stop, second least favourite, Around The Sun is shite) album, and this is just a bit too knowingly poppy. Not like the flower. Yeah, good, but nothing special, and gets annoying after a while. Back of the class.
7. Out Of Time - Radio Song
See, I said the last one was rubbish, and then along comes this heap of shit. What were they thinking? Yeah, lets ruin our career, and KRS One's while we're at it. Old KRS has never done anything this awful before or since. Poor sod. I don't think he really knew what he was letting himself in for. You just shouldn't mix americana with hip-hop. It doesn't work. Without him, the song is still not great. Thinks that it's better than it actually is. I'm going to review this one properly when I'm drunk.

8. Automatic For The People - Drive
Utter genius. I'm not going to go on about this because I want to listen to it.

9. Monster - What's The Frequency, Kenneth?
Lovely. I saw them play this live. They opened with it, and it was brilliant. A great song, I was the right age, the guitar line is brilliant, "You wore a shirt of violent green, uhh-huh", no-one knows what the fuck it's about. All in all, bloody fandabadositastic.

10. New Adventures In Hi-Fi - How The West Was Won And Where It Got Us
This record's brilliant too, although not many people seem to know much of it. Odd. Good track too. I remember hearing this for the first time and thinking how cool it was. Not like much I'd ever heard before really. I'm not too keen on Stipey going "AHHHHHHHHHHHHHHHHH!!!" at the end of the chorus, but apart from that happiness prevails.
11. Up - Airportman
This sounds a bit like Air at the beginning. I didn't own this album for the longest time, and then I only had it on minidisc for years. Why? It's a great record. This first song just sets the tone, doesn't try to be anything special, and does what it does really well. But as a song on it's own there's not really too much to get excited about. Still better than Radio Song though.

12. Reveal - The Lifting
Somewhat overblown. Good, but I get the impression that they think it's brilliant, although in reality it's only okay. The chorus is interesting but this is nothing special. I'm being honest, it's really not. In fact some of the lyrics are almost nauseating. And the bit where he says "never" over and over again is crap.
13. Around The Sun - Leaving New York
The first time I heard this I thought "what a load of boring shit", and I was upset, because I think REM are great and the last thing I want is for them to get all rubbish on me. But this is okay. We'll get on to the rest of the album at a later date, but this is good stuff. The lyrics are rubbish (his lyrics do seem to be getting crapper as time goes by - a worrying trend) but I like how this gets better as it goes on. It actually makes me go all tingly in bits, which is definitely a compliment. Pleasing.
That's that then. Let's line them up and see what happens.
Blimey this is hard. I don't want to be harsh but I'm going to have to be. Some good songs are going to get shit marks, but that's just the way the cookie crumbles I'm afraid.
Okay, so in reverse order here is the final listing:
13th -

Radio Song

(Out Of Time)
12th -

The Lifting

(Reveal)
11th -

Airportman

(Up)
10th -

Pop Song 89

(Green)
9th -

Feeling Gravitys Pull

(Fables Of The Reconstruction)
8th -

Finest Worksong

(Document)
7th -

Leaving New York

(Around The Sun)
6th -

How The West Was Won And Where It Got Us

(New Adventures In Hi-Fi)
5th -

Radio Free Europe

(Murmur)
4th -

Begin The Begin

(Lifes Rich Pageant)
3rd -

Harbor Coat

(Reckoning)
2nd -

What's The Frequency, Kenneth?

(Monster)

And the winner is....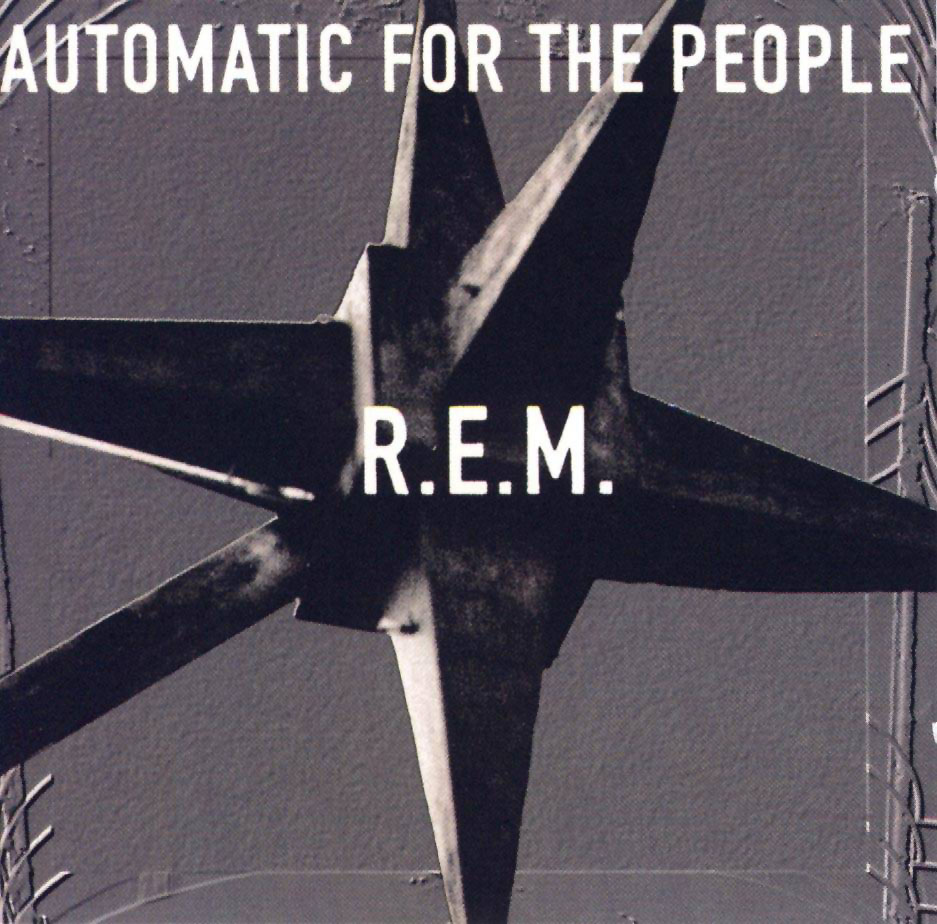 Drive

(Automatic For The People)
Well done to all involved. Drive gets 13 points, Kenneth gets 12, and so on and so forth. We'll add it all up at the end. I'm fascinated to see how the points total will compare with the album percentages. Anyway, I'll stop waffling as I've been going on for ages. Time for a cup of frothy caramel coffee. MMMMM!!!!!!!!
Next on the agenda is I Hate Keane. Already, two people have professed to me their hatred of this bunch of twats, and I now feel sufficiently confident in my belief that they are even worse than Cliff Richard to press ahead with the creation of the
Official I Hate Keane Website
.

Watch this space.